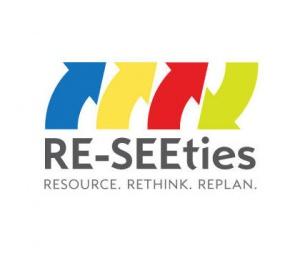 Acronym: RE-SEEties
Project title: Towards resource efficient urban communities in SEE
Project type: international
Project duration: October 2012 - September 2014
Financing: European Territorial Cooperation, Transnational Program South-East Europe 2007-2013

Partners:
The Local Government of Budapest District 18 (Hungary) - Leading Partner
Scientific Research Centre Bistra Ptuj (Slovenia)
Center for Renewable Energy Sources and Saving (Greece)
National Research Council of Italy - Institute of Methodologies for Environmental Analysis (Italy)
Municipality Of Aigaleo (Greece)
Municipality of Potenza (Italy)
Energiaklub Climate Policy Institute and Applied Communications (Hungary)
City of Nitra (Slovakia)
Harghita Energy Management Public Service (Romania)
City of Skopje (Macedonia)
North-West Croatia Regional Energy Agency (Croatia)
Macedonian Center for Energy Efficiency (Macedonia)

Objectives/Goals:
The project focuses on two main elements related to the efficient use of resources: 1) energy and 2) waste. The aim is to raise awareness among the various target groups on the efficient processing of waste for energy generation (raising awareness of consumers to promote energy saving and less waste at source) and to more co-ordinated and efficient use of renewable energy sources.

Benefits of project results for the local environment:

Despite the necessary regulations and instructions on waste management at the level of the European Union (EU) and at the national level of the countries in the project area, the quantities of waste are increasing, threatening human health and the quality of the environment in which we live. At the same time, the costs of waste disposal are constantly increasing due to the increasing number of different types of waste, which represents an economic burden for many households. Waste management in the project area still poses a problem, leaving a lot of municipal waste away. From the cooperation, the local environment can expect, in the field of environmental protection, an important contribution to the sustainable management of the generated waste.
More about project www.re-seeties.eu.