DIRECTOR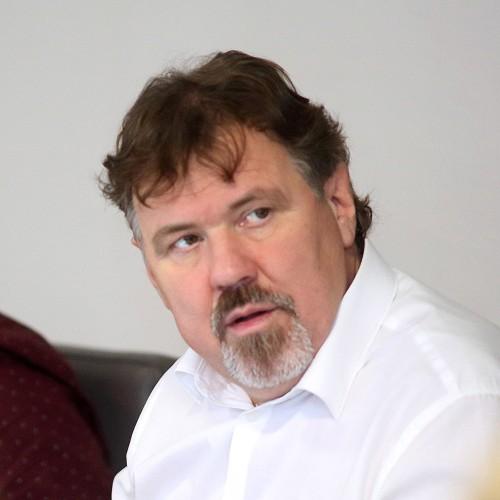 doc. dr. Štefan ČelanBiography: Štefan Čelan, PhD, director of SRC Bistra Ptuj
He was born in Ptuj on 8 December 1957, he spent his youth in Spuhlja. He attended his elementary school in Tone Žnidarič (today Mladika), and secondary school at the Technical Chemistry School in Ruše. As a student, he completed his university studies in chemical technology at the University of Maribor in 1988. In 1990, he continued his postgraduate studies as a young researcher and assistant, and in 1993 he received a master's degree and later in 1997.
He gained rich work experiences in the years 1976-1989 in the companies Agis and Sava Kranj. And he constantly worked on the development of new products and technologies in the development and technology department. His major successes include the development of the pharmaceutical program of rubber goods/ products.
EMPLOYEES
Štefan Čelan, PhD
BSc. Chemical Technology
public institution director
Senior Project & Research Manager
T: +386 2 748 02 51
E:

Dušan Klinar, PhD
BSc. Chemical Technology
Master of Science in Business and Economics
Senior Project & Research Manager
T: +386 2 748 02 48
E:

Klavdija Rižnar, PhD
BSc. Chemical Technology
Senior Project & Research Manager
T: +386 2 748 02 55
E:

Dr. Sc. Lidija Tušek
Doctor of Chemistry
Senior Project & Research Manager
T: +386 2 748 02 59
E:

Mojca Šibila Drobnič, Msc.
Master of Science in European Studies
Project Manager
T: +386 2 748 02 52
E:

Ksenija Rakuša
Bachelor of Economics
Senior Project Officer
T: +386 2 748 02 54
E:

Rosvita Bedrač
Bachelor of Economics
Senior Project Officer
T: +386 2 748 02 50
E:

Jadranka Krajnc
Bachelor of Economics
Senior Project Officer
T: +386 2 748 02 57
E:

Danilo Čeh
Master of Science in Management
Senior Project Manager
T: +386 2 748 02 68
E:

Julija Potisk
Bachelor of Geography
Senior Project Officer
T: +386 2 748 02 61
E:

Mirjana Nenad, Msc.
MScs in Political Science
Senior Project Officer
T: +386 2 748 02 65
E:

Nataša Mršek
High School Graduate
Project Officer
T: +386 2 748 02 49
E:

Blaž Kukec
BSc Political Science
Project Officer
T: +386 2 748 02 48
E:

Robert Novak
Bachelor in Management
Senior Project Officer
T: +386 2 748 02 64
E:

Brigita Drevenšek
Bachelor of Economics
Senior Project Officer
T: +386 2 748 02 66
E:

Zvonka Lazar Borak
Bachelor of History
Project Officer
T: +386 2 748 02 56
E:

Iztok Uhan
BSc. Chemical Technology
Senior Project Officer
T: +386 2 748 02 63
E:

Tjaša Glažar
Master of Science in Economics
Senior Project Officer
T: +386 2 748 02 62
E:

Erik Mihelič
Master of Science in Chemical Engineering
Young researcher
T: +386 2 748 02 58
E: