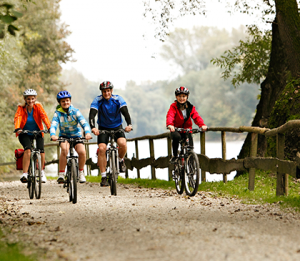 Project Title: Murska-Drava cycling routes
Project Status: Completed
Duration of the project: August 1, 2008 - August 31, 2012
Funding: Funds from the European Regional Development Fund (ERDF), European Territorial Cooperation, OP Slovenia-Austria for the programming period 2007-2013
Partners:
Mura Regional Development Agency - Lead Partner
SRC Bistra Ptuj
Center for Health and Development Murska Sobota
Prlekia Development Agency
Mariborska razvojna agencija
Međimurje County Tourist Board
Regional Development Agency Međimurje - REDEA
Development Agency of the City of Čakovec - Čakra
Tourist Board of Varaždin County
Varaždin County
Project goals:
establishing an attractive cross-border tourist destination along the Mura River and the Drava River;
ensuring sustainable economic and social development in the cross-border area (economic growth, depopulation, added value, natural and pleasant environment). As part of this, we want;
Encourage cooperation and exchange of experience in the development and marketing of tourism products.
Meaning for the local environment:
The majority of the route of the Drava cycling route was already determined in the previous project, but in this project the route was slightly extended (Ormož - Središče ob Dravi). The project financed the installation of directional tables and information boards. GPS navigation routes with included providers were prepared, tourist products were designed (5 were designed for the Lower Podravje region). In the form of two workshops and two professional excursions training of tourism workers, providers, development planners and local communities in the field of cycling tourism was carried out. An important contribution to the project is also the promotion of this cycle route through websites, photographs, films, and bicycle tickets for the whole area of ​​the cycle route have been produced and printed.
Results of the project:
DS1 (Determining the route of the cycle route): identified the most important landmarks of the area, the optimal route for the cycle path along the Mura and the Drava;
DS2 (Cycling route arrangements): set up 100 control tables and 4 explanatory tables, set up 16 rest areas, set up a 120km route;
DS3 (Preparation of construction projects and documentation for the execution of works): prepared construction documentation for 80km of cycling routes along the Mura;
DS4 (Establishment of tourism products): established cross-border tourism products, co-organization of cycling events, established standards and chain of providers on cycling routes, prepared and publicly and free of charge GPS navigation;
DS5 (Training and training of target groups): 12 training workshops throughout the region, 3 professional excursions for tourism service providers, two-week training for 20 bicycle guides;
DS5 (Marketing and PR activities): at least 6 press conferences, participation in 3 fairs, website, 100,000 cycling cards, 400 wall cards, 40,000 brochures, promotional material.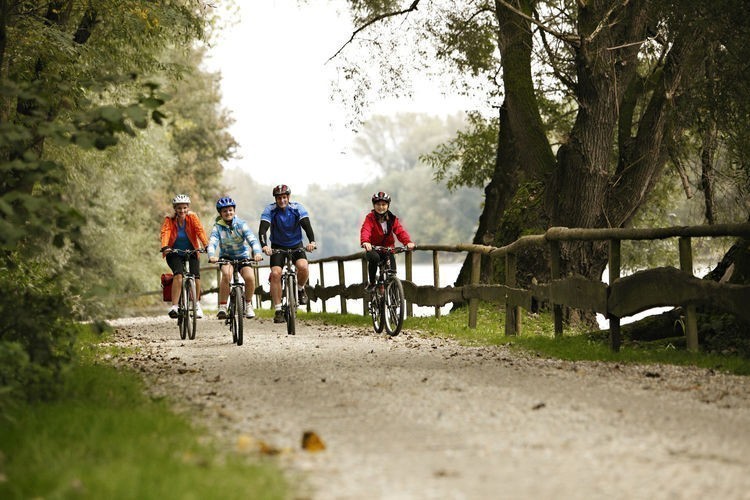 Foto: Aljoša Videtič