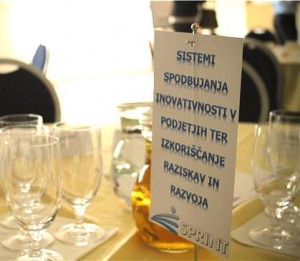 Project title: Creating a supportive environment for strengthening the innovative and technological potential in the cross-border area
Status of project: completed
Project type: international
Duration: April 2011 - April 2013
Financing: The project is implemented under the Operational Program of Cross-border Cooperation Slovenia-Croatia 2007-2013 and is co-financed by the EU under the. The Instrument for Pre-Accession Assistance (IPA) and the Government Office for Local Self-Government and Regional Policy (SVLR). [Br]
Head of the project at SRC Bistra Ptuj: dr. Lidija Tušek Korošec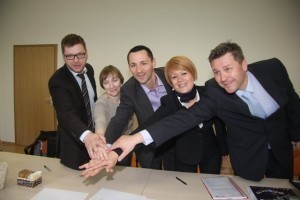 Partnerski stisk rok ob zagonu projekta.
Partners:
Objectives: Creating a supportive environment for the promotion of economic growth and the competitiveness of the economy by linking businesses and scientific-research institutions in a less developed cross-border area with the aim of creating a common economic space.
The purpose of the project is to stimulate the innovative activity of companies in a less developed border area. Taking into account the global trends and the overall presence of the crisis, it becomes clear that the long-term and sustainable development of the Podravsko-Pomurje region is possible only through increased innovation - this means introducing new ideas and technologies into the business and production processes of companies. In order to improve the economic and social situation, the added value created by the regional economy must significantly increase. Entrepreneurs are also starting to be increasingly aware of the need for collaboration with other compatible companies, with the academic (research) community and with organizations and centers that support development. Unfortunately, there is a considerable fragmentation of information in this area. The project partners will combine the strengths in collecting, organizing and systematizing data on innovative and development-oriented enterprises, the competences of research institutions, existing incentives for innovation and development on both sides of the border, and proposing to improve the system of support activities that will serve innovative companies on the move from product development to a greater competitive advantage.
Specific cross-border objectives:
identifying the innovative potential of businesses and support institutions,
regional and cross-border integration of enterprises with research and education institutions (to enhance cooperation and increase the flow of knowledge and technology),
creating joint development ideas of companies and R & D institutions,
preparing proposals to promote the growth of innovative enterprises; recommendations aimed at the public sector and the economy for the implementation of the transfer of knowledge and technologies from the research to the corporate environment,
improving business / technological cooperation between regions in the cross-border area and integration of the field into international technological initiatives.
Description / Results:
SPRINT BENEFITS = ENHANCED CROSS-BORDER COOPERATION
A publicly accessible database on the innovative potential of businesses and support institutions in the cross-border area.
New partnerships between companies and institutions / institutions in the field of R & D.
Analyzed companies and institutions with emphasis on R & D needs and activities related to technology transfer.
Increased number of cross-border partnerships between economic operators.
Increased number of joint R & D projects.
Benefits of project results for the local environment:
The project encourages the participation of companies from the wider Ptuj environment with supporting organizations and institutions of knowledge in development initiatives. It promotes the transfer of good business practices, the development of new products, services and technologies, and facilitates access to knowledge generated by research and development institutions and other companies. All these activities increase the competitive advantage of local businesses.
Project publications:
SPRINT_- leaflet about the project
Summary Analysis of innovative potential in the cross-border area of SI-HR
Recommendations with a set of measures to promote the growth of innovative companies in the cross-border area of SI-HR
More about IPA Slovenia - Croatia 2007-2013