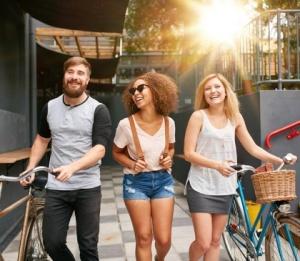 NAME OF THE PROJECT: Towards energy responsible places: establishing walkable cities in the Danube Region
DURATION: 1.12.2016 – 1.5.2019
FINANCING: European Territorial Cooperation, Programme of Cooperation INTERREG V-B Danube 2014–2020; Co-funded by the EU funds (ERDF, IPA)
PROJECT MANAGER AT ZRS BISTRA PTUJ: Danilo Čeh
IMPORTANT RESULTS OF THE PROJECT
3D panoramski zemljevid Ptuja*, **
PARTNERS:
Scientific Research Centre Bistra Ptuj (Slovenia) – lead partner
First Hungarian Responsible Innovation Association (Hungary)
Development Centre of the Heart of Slovenia (Slovenia)
Cassovia Life Sciences (Slovakia)
City municipality Varaždin (Croatia)
Municipality of Oradea (Romania)
Varna Free University "Chernorizets Hrabar" (Bulgaria)
Regional Development Agency of the Pilsen Region (Czech Republic)
Municipality of Weiz (Austria)
Varna Municipality (Bulgaria)
Municipality of Nyíregyháza City with County Rank (Hungary)
City of Valjevo (Serbia)
Chamber of Commerce and industry of Serbia (Serbia)
ASSOCIATED PARTNERS:
City Municipality Ptuj (Slovenia)
City of Stříbro (Czech Republic)
Ministry of Construction, Transport and Infrastructure (Serbia)
Nyíregyháza Industrial park Ltd. (Hungary)
PROJECT GOAL:
The objective of the CityWalk project is to help cities in the Danube region to reduce emissions and noise thus becoming a safer living space, by increasing the role of more sustainable forms of mobility, especially active forms of transport – walking and cycling. The main purpose of the project is therefore the improvement of key conditions of walkability:
Improving urban mobility by effectively combining different modes of transport while reducing noise emissions and traffic congestions,
Increasing safety,
Contributing to a healthier population and
Raising the satisfaction of the inhabitants of the region.
RESULTS:
Perform courses and workshops for stakeholders,
Develop a common toolkit which will include a walkability guide, index and an online tool,
Design 8 walkability plans,
Deliver 8 pilot actions and
Develop and present policy proposals for sustainable mobility.
WEB SITE: www.interreg-danube.eu/citywalk
FACEBOOK PROFILE: @CityWalk.project (fb.me/CityWalk.project)
Project co-funded by the european union funds (ERDF, IPA)